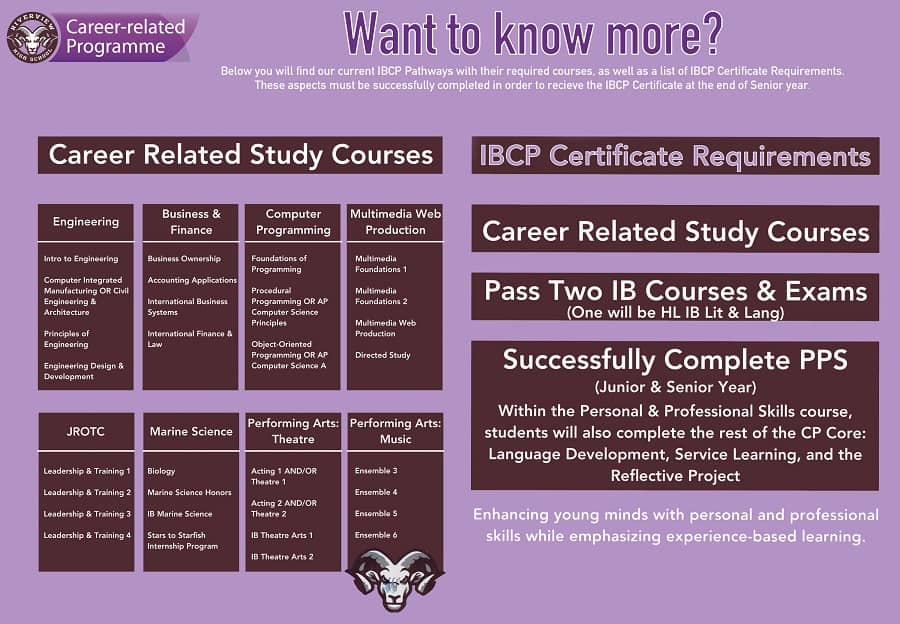 What is IBCP?
The International Baccalaureate® (IB) Career-related Program (CP) is a framework of international education that incorporates the vision and educational principles of the IB into a unique program specifically developed for students who wish to engage in career-related learning. Incoming 9th graders should apply to the IB Program if they want to begin the IB education in 9th grade. Students are encouraged to apply to the IB program as a whole and may choose their program (diploma or career) when rising to the 11th grade.
The CP's flexible educational framework allows schools to meet the needs, backgrounds and contexts of students. CP students engage with a rigorous study programme that genuinely interests them while gaining transferable and lifelong skills.
What the CP offers students
The CP provides a comprehensive educational framework that combines highly regarded and internationally recognized courses, from the IB Diploma Program (DP), with a unique CP core and an approved career-related study.
The CP develops students to be:
Academically strong Theatre Arts and Marine Science

Skilled in a practical field

Critical and ethical thinkers

Self-directed

Collaborative

Resilient and determined

Confident and assured

Caring and reflective

Inquirers
History of IBCP
After a 6 year pilot involving schools from around the world, the IBCP was made available to IB Diploma Program schools in 2012.

Riverview High School received authorization to offer IBCP beginning with the 2015-2016 school year.

Approximately 30 juniors participated in the inaugural CP cohort in the areas of International Business or Engineering.

As of June 2018, there are 204 schools offering the CP in 16 countries.
Opportunities Available through IBCP:
Industry Certifications

College credit through IB diploma courses

Mentorships

Internships

Research and Writing skills
http://ibo.org/programmes/career-related-programme/what-is-cp/key-facts-about-the-ibcc/
IBCP Program Requirements
IB Career-related Program Requirements:
1a. Completion of the IBCP Core*
1b. Completion of at least 2 Diploma Program courses, where at least one course is a 2-year sequence;
1c. Participation in the career-related courses for Engineering, International Business or Computer Programming, JROTC, Theatre Arts and Marine Science
1a. The IBCP Core
The IBCP Core:
The components of the core are at the heart of the Career-related Program and are designed to enhance students' personal qualities and professional development.
The Career-related Program core contextualizes the Diploma Program courses and the career-related study and draws all aspects of the framework together. The core is designed to develop many of the characteristics and attributes described in the IB learner profile.
All components of the core are mandatory. They are:
• Personal and Professional Skills (previously known at Approaches to Learning)- 2 year course during junior and senior years;
• Service Learning- minimum of 50 hours;
• Language Development- minimum of 50 hours;
• Reflective Project- submitted and assessed during senior year of the program.
1c. Career & Technical Education Program Sequences for IBCP
Engineering

Intro to Engineering

Computer Integrated Manufacturing

Principles of Engineering

Engineering Design and Development

International Business

Digital Info Tech

Accounting Applications

Int'l Business Systems

Int'l Finance and Law

Computer Programming

Digital Info Tech

Foundations of Programming

Procedural Programming

AP Computer Programming

Commercial Art

Graphic Design & Illustration

Visual Communication

Print & Digital Media

JROTC

Leadership & Training 1

Leadership & Training 2

Leadership & Training 3

Leadership & Training 4

Marine Science

Biology

Marine Science Honors

IB Marine Science

Stars to Starfish Internship Program

Performing Art: Theatre

Acting 1

Acting 2

IB Theatre Arts 1

IB Theatre Arts 2

Performing Art: Music (Guitar, Orchestra, Band, Chorus)

Ensemble 3

Ensemble 4

Ensemble 5

Ensemble 6

Education

Intro to Teaching

Human Growth & Development

Foundations of Curriculum & Instruction
University Recognition
Through the International Baccalaureate® (IB) Career-related Program (CP), students deepen their understanding in general areas of knowledge, engaging in a holistic education model that fosters an enthusiasm for lifelong learning.
As a result of the program, students develop the self-confidence and skills to participate successfully in higher education.
Universities and further/higher education institutions are likely to value the CP, for a number of reasons. 
http://ibo.org/programmes/career-related-programme/what-is-cp/university-recognition/
Riverview High School
1 Ram Way
Sarasota, Florida 34231
(941) 923-1484
Contact Us
E-mail the IBPO Executive Board:
riverviewibpo@yahoo.com